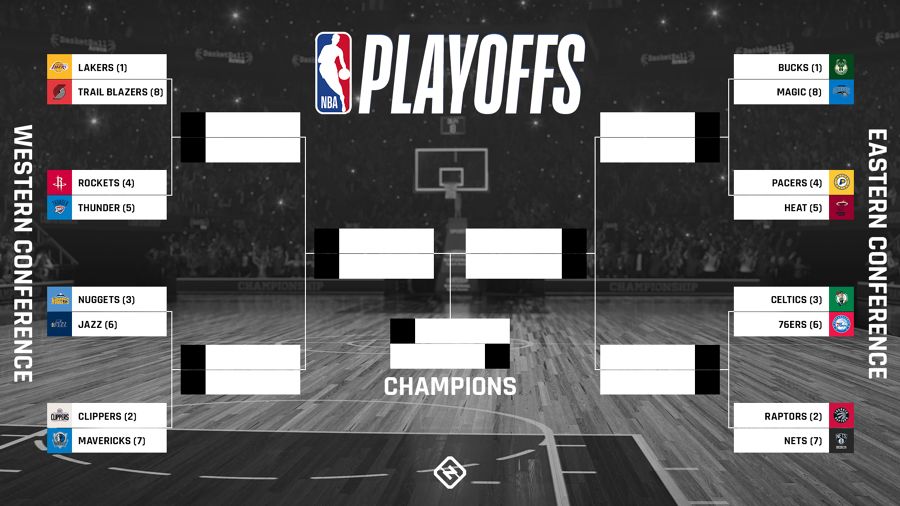 Photo credits: sportingnews.com
The National Basketball Association (NBA) playoffs for season 2019-2020 have been started officially on the 17th of August, Monday. Despite the delay because of the COVID-19 pandemic, the NBA finds a way to continue the postseason safely inside the league's "Bubble" at Walt Disney World Resort in Orlando, Florida amidst the novel coronavirus outbreak. As of the NBA released schedule, the playoffs are finally here with 16 teams squaring off in Orlando for the title.
West 1st Round Los Angeles Lakers vs. Portland Trail Blazers
West 1st Round Los Angeles Clippers vs. Dallas Mavericks
West 1st Round Denver Nuggets vs. Utah Jazz
West 1st Round Houston Rockets vs. Oklahoma City Thunder
East 1st Round Milwaukee Bucks vs. Orlando Magic
East 1st Round Toronto Raptors vs. Brooklyn Nets
East 1st Round Boston Celtics vs. Philadelphia 76ers
East 1st Round Indiana Pacers vs. Miami Heat
The game one for NBA playoffs first round was yesterday, August 18, where Blazers defeated the lakers in a thrilling game. Los Angeles Lakers is the No. 1 seeded team in the Western Conference and matched up against the Portland Trail Blazers, who won the Western Conference Play-In game over the Memphis Grizzlies. The Blazers overthrew LA Lakers in 100-93 play for their first-round series of the best-of-seven affair.
Damian Lillard, Blazers' point guard, had 34 points and took over in the last six minutes which led them to victory on Tuesday night. CJ McCollum, who's also a point guard of the winning team exploded 21 points and 5 rebounds, Jusuf Nurkic (Center) delivered 16 points, and 15 rebounds, while the three-pointer Carmelo Anthony had 11 points, 10 rebounds, and 5 assists for the Portland Trail Blazers. On the other side, Los Angeles Lakers' star player, Lebron James, put up 23 points, 17 rebounds, and 15 assists for his team.
Today, August 19, in Orlando, Florida would be the game two of the NBA Playoffs 2020 first round. This matchup is between Western Conference heavyweights, Los Angeles Clippers and Dallas Mavericks. The Mavericks need to beat Clippers to keep their playoff hopes alive.